Are you tired of spending hours designing your WordPress website? Look no further than Extendify, the ultimate tool for site design and creation.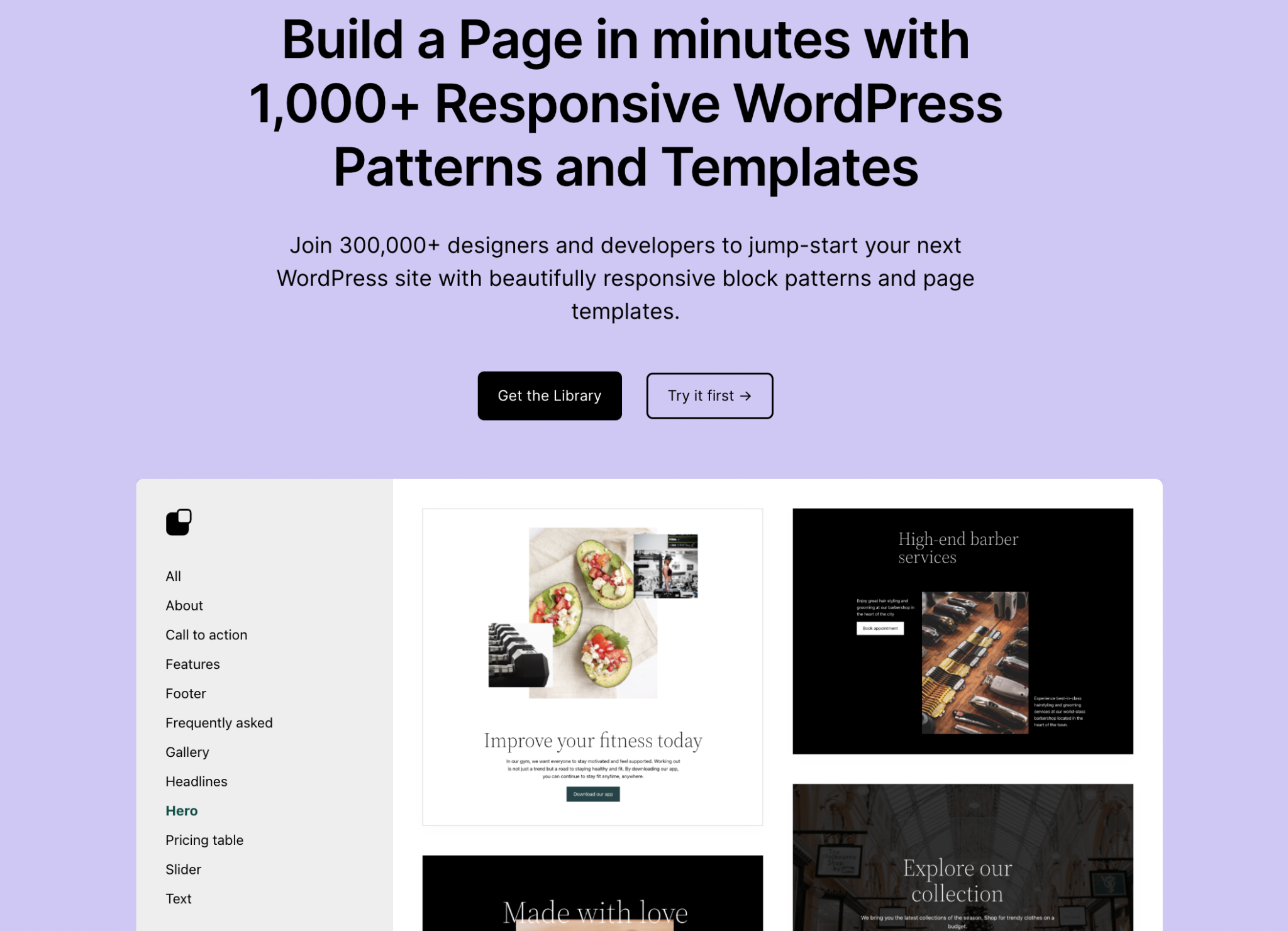 Extendify has over 1,000 responsive WordPress patterns and templates ready to use, and over 60,000 active installs, Extendify makes it easy to create a professional-looking website in just a few clicks. Whether you're a beginner or an experienced developer, Extendify has something for everyone.
One of the key features of Extendify is its library of reusable website block patterns, templates, and full-page layouts. These well-designed templates allow drag-and-drop publishing in WordPress without needing code, making it easy to build or add to existing websites rapidly. Additionally, the plugin uses core WordPress blocks for its patterns and layouts to avoid the added maintenance of third-party block plugins.
Extendify works with any Gutenberg-friendly WordPress theme, so you don't have to worry about compatibility. If you change your theme, the plugin's patterns and layouts will automatically adjust to the new design, making it easy to switch up your website's look. It also fully supports popular themes such as GeneratePress, Neve, Genesis, and more.
Extendify offers specific patterns for sites such as yoga studios, restaurants, dentists, and lawyers. It has patterns for website sections like about pages, call-to-action patterns, feature patterns, gallery patterns, headline patterns, hero patterns, team patterns, and text patterns. It also provides full collections of block patterns to create page templates that can be added to a site.
Extendify has a free version that allows users to import up to 5 patterns, templates, and layouts each month on one site for free. If you want more options, you can upgrade to Extendify Pro to access the full library of patterns, templates, and layouts. With Extendify Pro, you can import any patterns, templates, and layouts you want and use them on your site permanently.
How to Use Extendify
Using the Extendify plugin is a simple process that allows you to enhance your website's design easily. Once the plugin is activated, you will see the "Extendify Library" button in the editor's header when editing a page or post.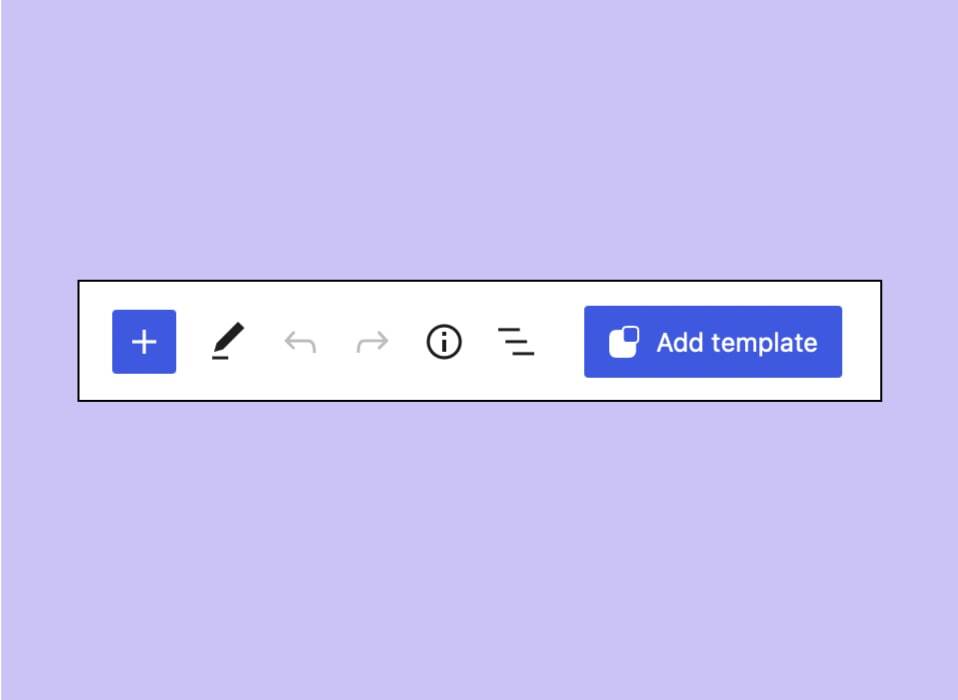 Clicking on this button will bring up a pop-up where you can set your site's industry or type. This will show you patterns and full-page layouts that fit your website. This makes it easy to find the perfect design for your site.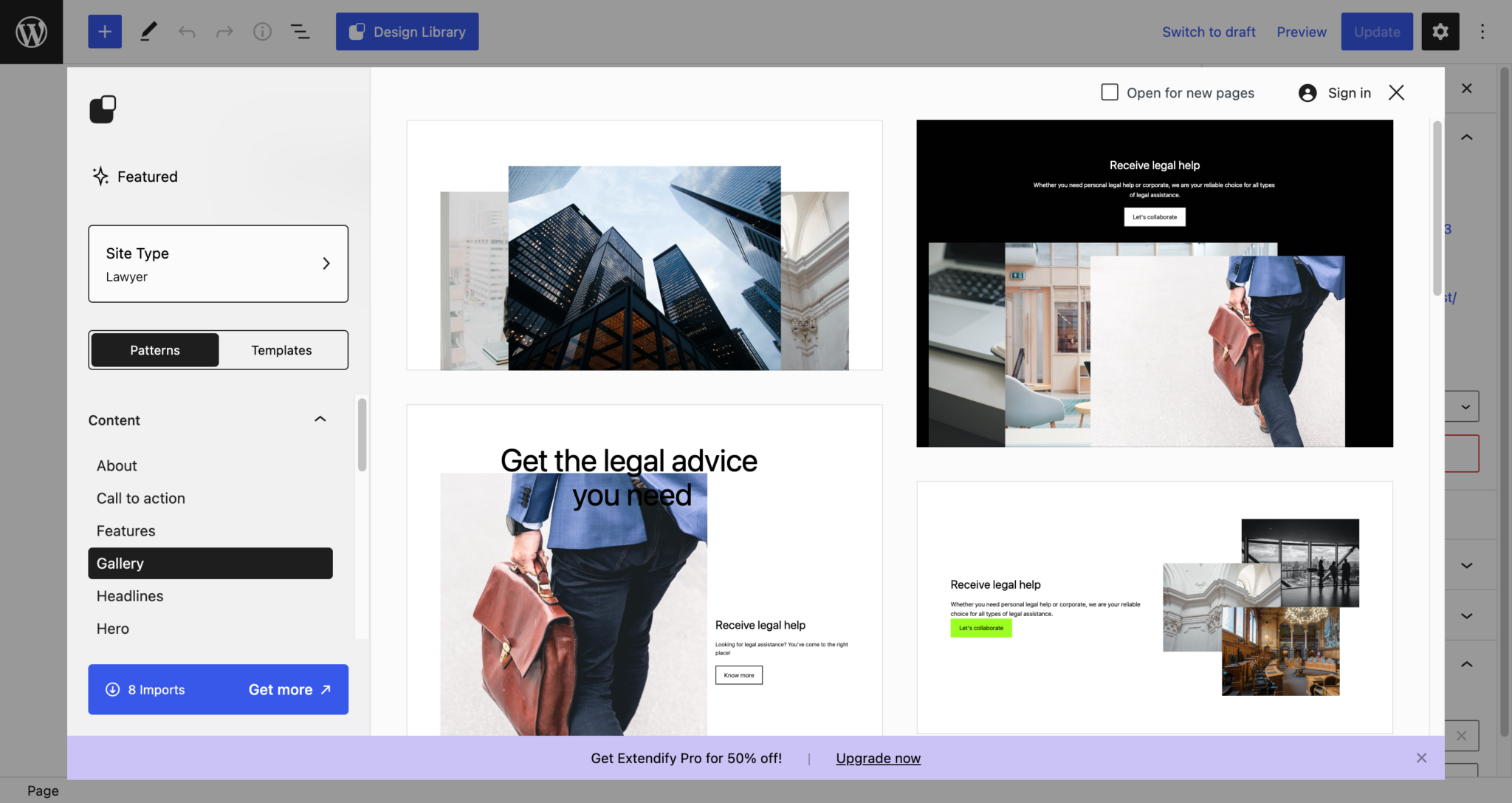 Extendify supports over sixty types, with new industries added regularly.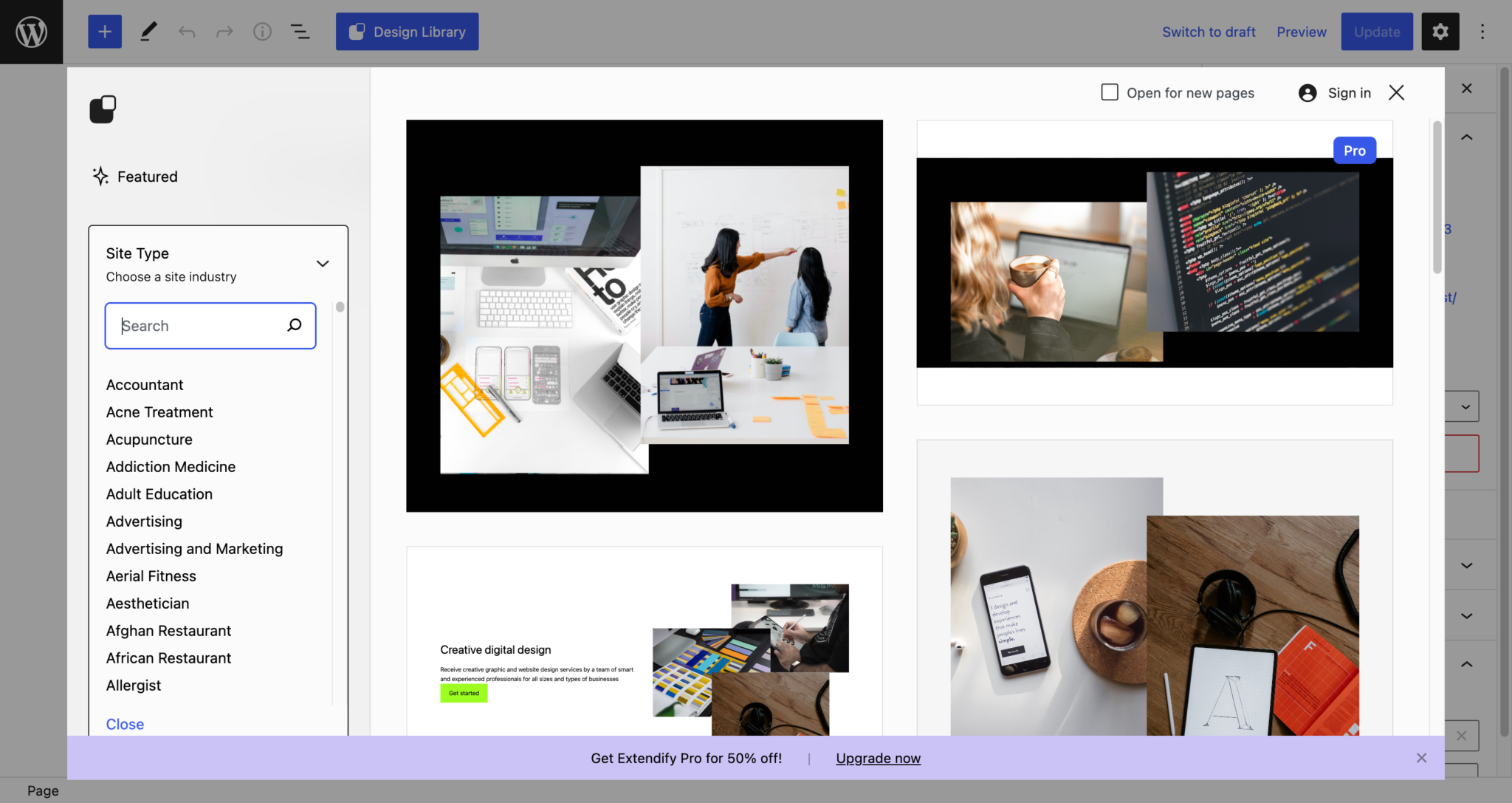 After you've selected your industry, all the patterns and layouts will change to be specific to your site type.
Now You'll have two options to choose from patterns and layouts. If you want a full-page layout, click on it and choose the design you want to insert.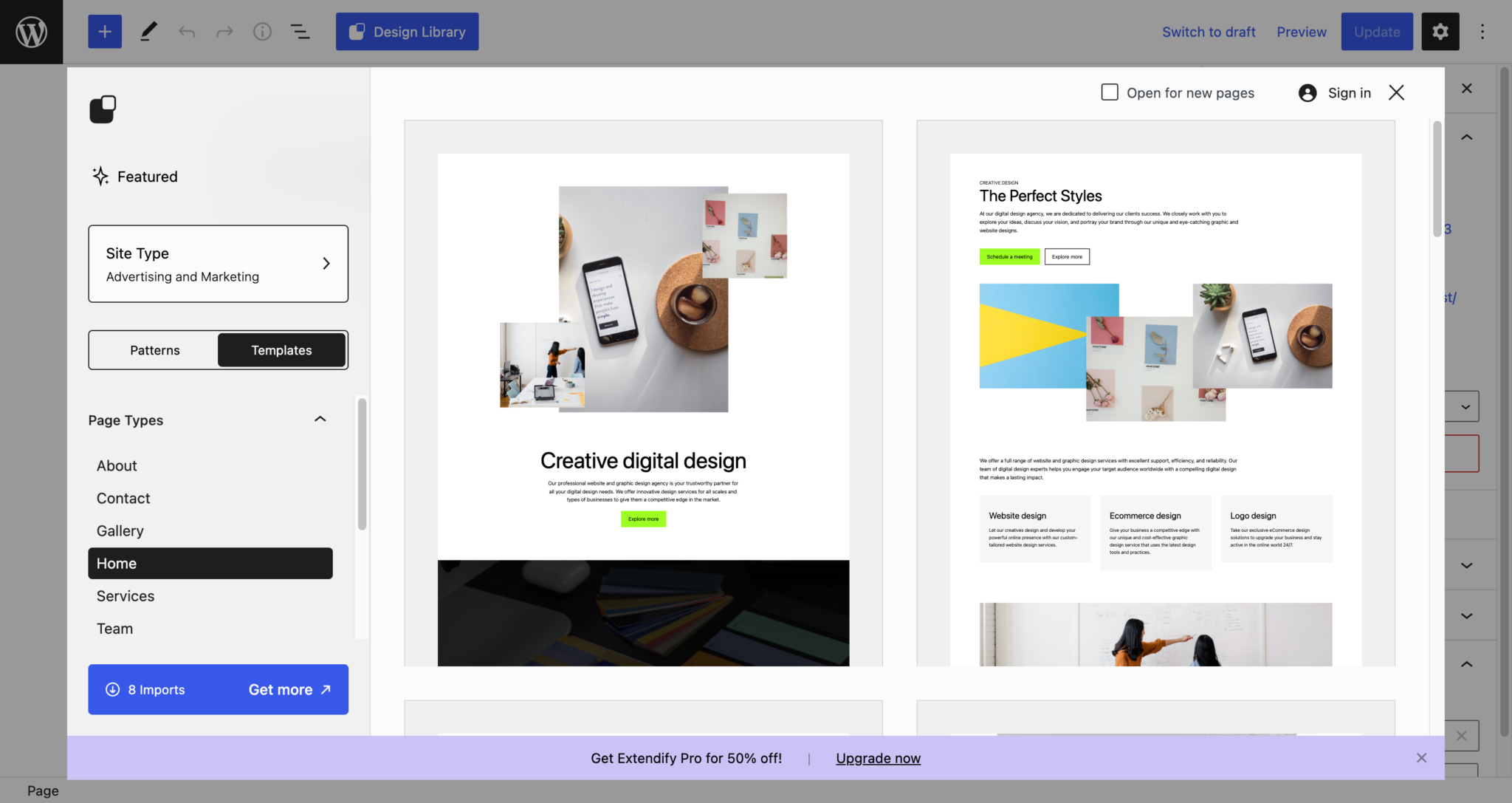 To insert any template or pattern into your page or post, click on it, and the design will be added to the page. Once the pattern or layout is on your page, you can customize it to your needs. This includes changing colors, fonts, and images to match your brand.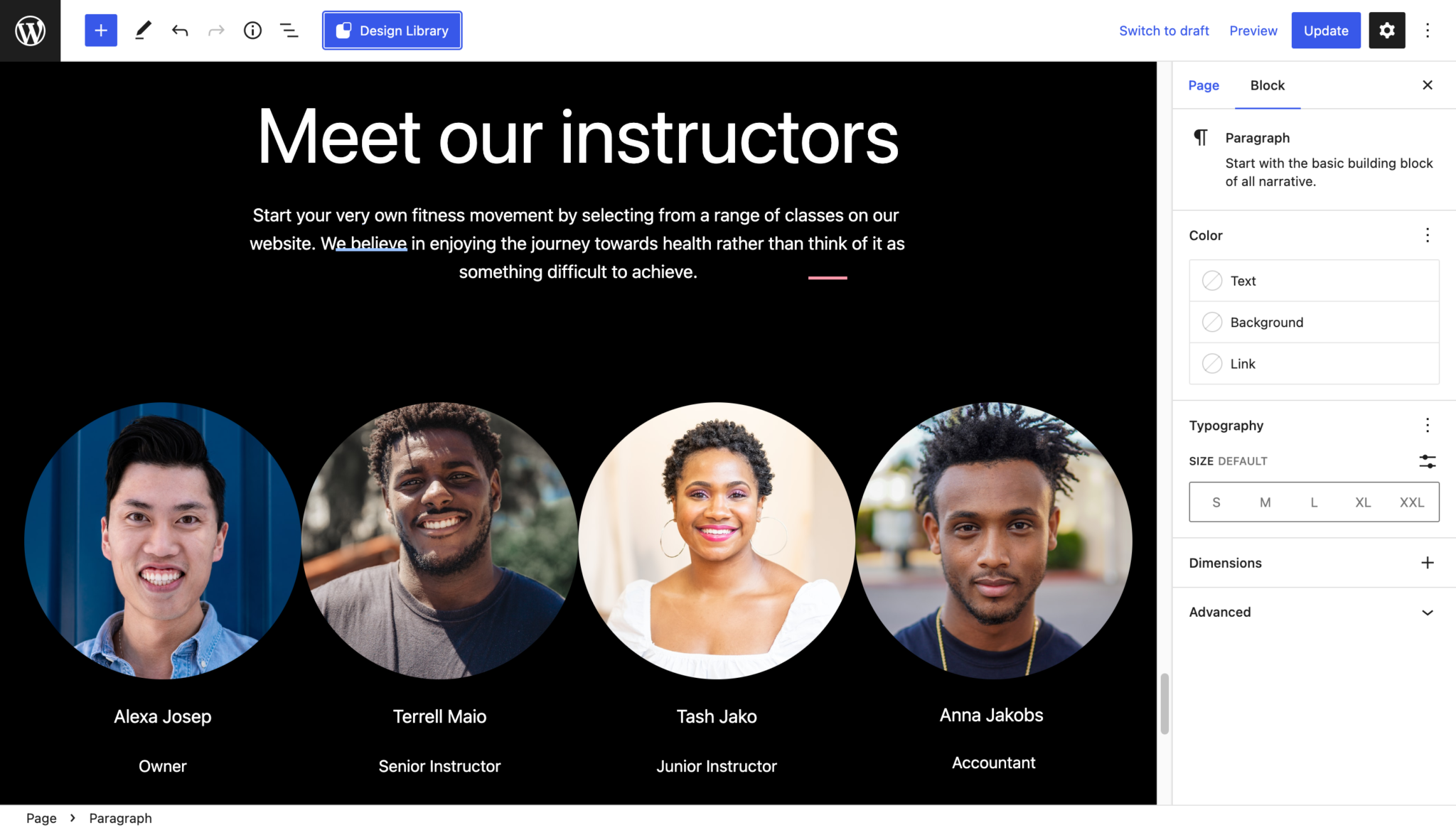 Note: In case you can't find your site type in the list, you can still use the plugin. Just find a pattern or layout you like, and make a few changes to make it more specific to your site type. This way, you can easily create a professional-looking website that is tailored to your specific needs and preferences.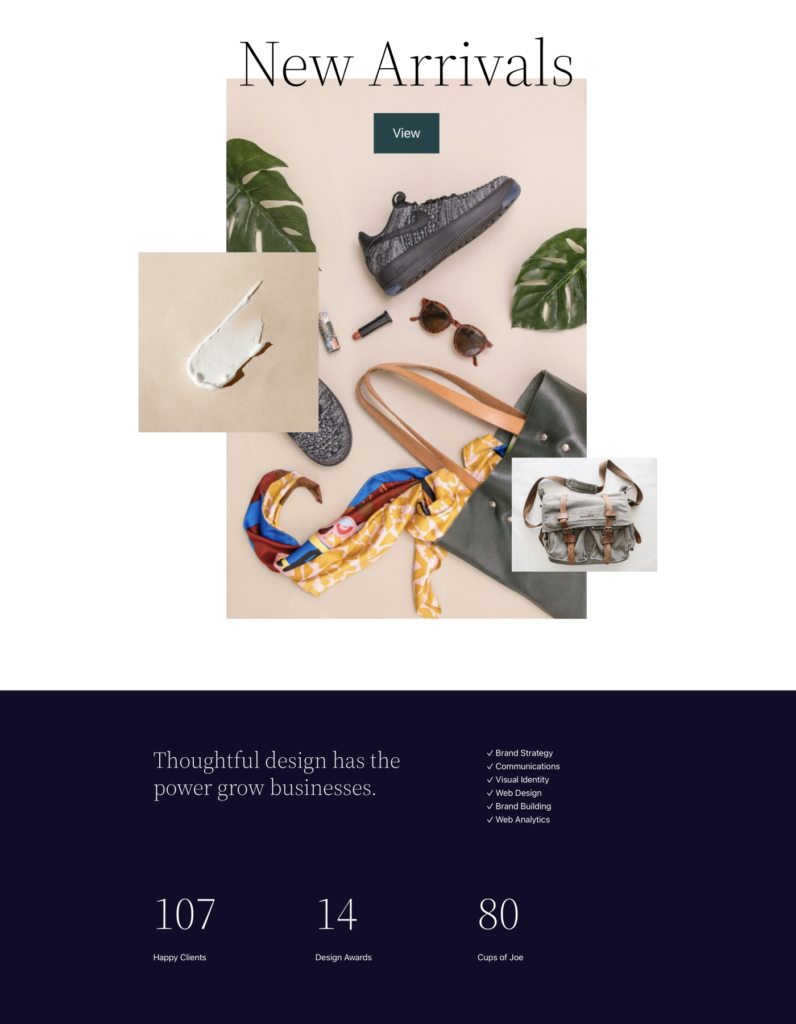 Conclusion
In conclusion, Extendify is a great resource for anyone looking to create a beautiful and functional WordPress website. With its library of patterns and templates for the Gutenberg block editor, it makes it easy to design a website that truly stands out. And with its theme-agnostic design and industry-specific patterns, it's a versatile tool that can be used by anyone, regardless of their design skills.