A free plugin released to the WordPress.org repository extends wp-admin to give Gutenberg's new Reusable Blocks the same level of priority as other content types on your WP site.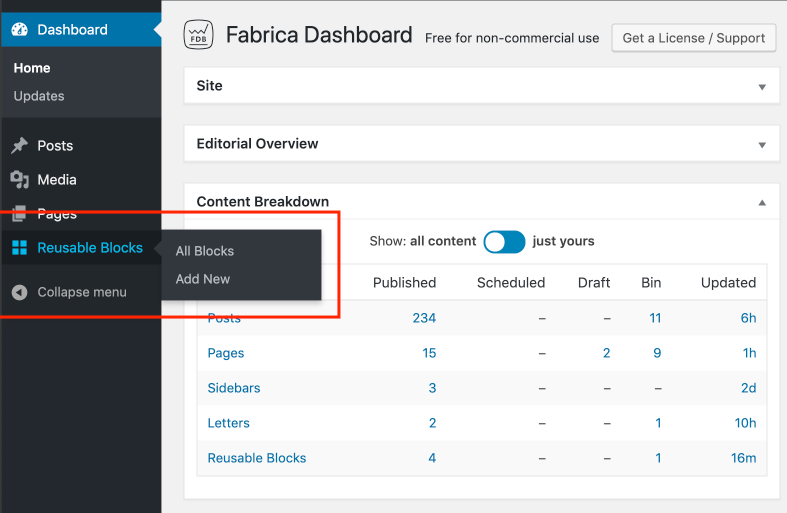 Fabrica Reusable Block Instances adds the block editor's Reusable Blocks to the admin sidebar, with both a list screen to help you quickly access and edit your existing Reusable Blocks, and see where they're already used, and an "Add New" option so you can plan ahead and prepare (or get sign-off on) a new block before you need to put it in a Post or Page.
One of the most exciting and useful features of WordPress 5's Gutenberg block editor is that it allows these smaller blocks of content (and indeed groupings of blocks) to be reused across multiple Posts and Pages on a site. Until WP 5.0, if you wanted a piece of text or code to be centrally maintainable, but to appear in multiple locations across your site, you probably had to get a developer to implement it for you, or use a plugin- or theme-dependent shortcode. The Reusable Blocks functionality gives authors and editors a much easier way of handling these repeatable chunks of content, and of seeing those chunks immediately rendered in the context in the Post edit screen.
Fabrica developed the Instances plugin because although these blocks can now contain some of the most important pieces of a website's content, core wp-admin screens and navigation didn't treat them as first-class citizens. You had to remember where a block was used, dive deep into that Post, then hover over the block to access its context menu, then go to a semi-hidden option in order to access and edit the master block, without knowing if it really was used in more than one post, nor if there were other similar blocks that overlapped features or functionality.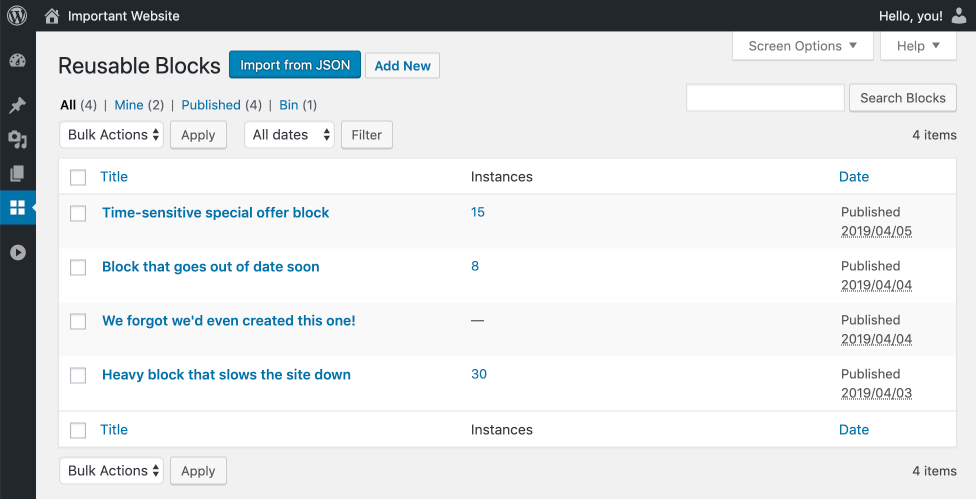 With this plugin, all a site's reusable blocks are conveniently grouped and listed, and even more helpfully, it also shows how many instances of each block are in use across the whole site… it's not just counting the number of posts/pages that contain the block, but the number of occurrences of the block even if it's duplicated more than once in a single post. This is especially useful given that edit to the master will be pushed live to all posts that contain it without triggering a Post Revision, so there's no way in wp core of reverting a change made in that way at the level of the single Post.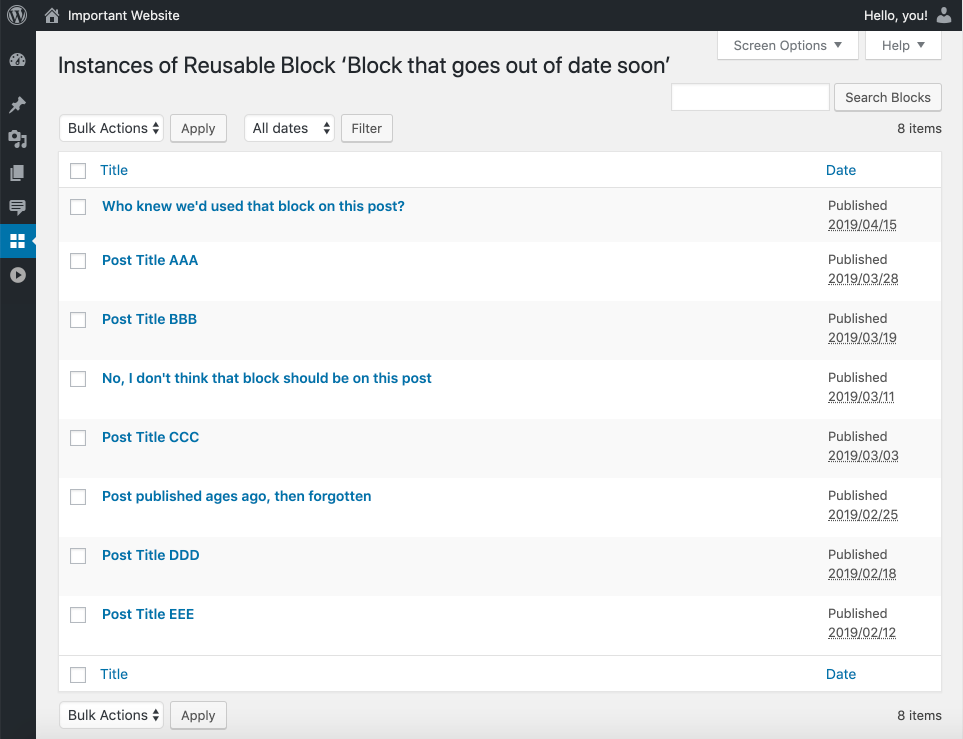 Reusable Block Instances is designed to make lighter work of content auditing tasks and can help site editors to:
check that editing a reusable block won't have unwanted effects on posts that contain it;
ensure that the right subset of posts contains an important reusable block (such as a call to action, or a time-sensitive offer)
consolidate similar reusable blocks to make a site more consistent and easier to keep up-to-date
The first reviewer of the plugin in the WordPress repository also pointed out another benefit of Fabrica Reusable Block Instances:
"you will now have the option to export ALL reusable blocks with one click, which is very useful if you have dozens of reusable blocks"
and adding that
"everything that this plugin does, SHOULD be part of the WP core, no excuses, everything this plugin does, is extremely crucial."
The plugin development team told Gutenberg Hub that upcoming features are planned, including more detail about where each block is used – for example, whether a block appears multiple times in a single post, and how instances are split between Posts, Pages and Custom Post Types – all with a view to making the content lifecycle easier to manage for site editors.
Fabrica is a WordPress-specific offshoot of the design and development company Yes we work. Their WP plugin and toolkit ideas tend to come from their long experience building content-led sites for editorial clients. They also have a freemium Dashboard plugin that replaces the default wp-admin dashboard screen to make managing site content easier, especially for multi-author teams. Their Dashboard plugin also brings Reusable Blocks to the fore, again making it much simpler and more reliable for site owners to take advantage of the new capabilities that WP5's block editor offers.