Sometimes, all you want to do is search for a great-looking WordPress theme. But the standard WordPress themes directory makes it difficult. Fortunately, there is a solution. I want to introduce you to a great new theme directory that makes finding the best WordPress themes easy.
I have been working hard on this re-imagined block themes directory to help users find the perfect theme for their needs. This directory includes a whole host of details about each theme, such as any typography it uses and its color scheme. This makes it much easier to find the theme that's right for you without having to download and test multiple themes.
Introducing the GutenbergHub's WordPress Themes Directory. Here's what you can do now:
Explore Free WordPress Block Themes
I've tried to keep the UI as close to the official WordPress theme directory as possible to make it easier for you to use. The home page shows free themes from the directory. You can browse through them and go to more pages if more themes are available.
See more about a theme before you install it
My goal for this directory is to show you all the details a theme offers. If you're browsing, you'll see things such as:
Color scheme
It shows you all the theme's color palette.
Typography
It shows you the typography details a theme offers, such as font family, color, and font size.
Button Styles
See what styling a theme applies to buttons. Make sure to hover over a button to see the hover styling as well.
Block Styles
Theme details page shows a lot more block styles as well besides buttons.
Note: Based on feedback, I may list more blocks on the theme details page if needed.
A live preview that's more useful
I've also reimagined how a theme's live preview can be helpful. As a first step, I've added a content demo in addition to the classic theme demo. This way, you can see how blocks are styled and how different types of content are displayed on your website.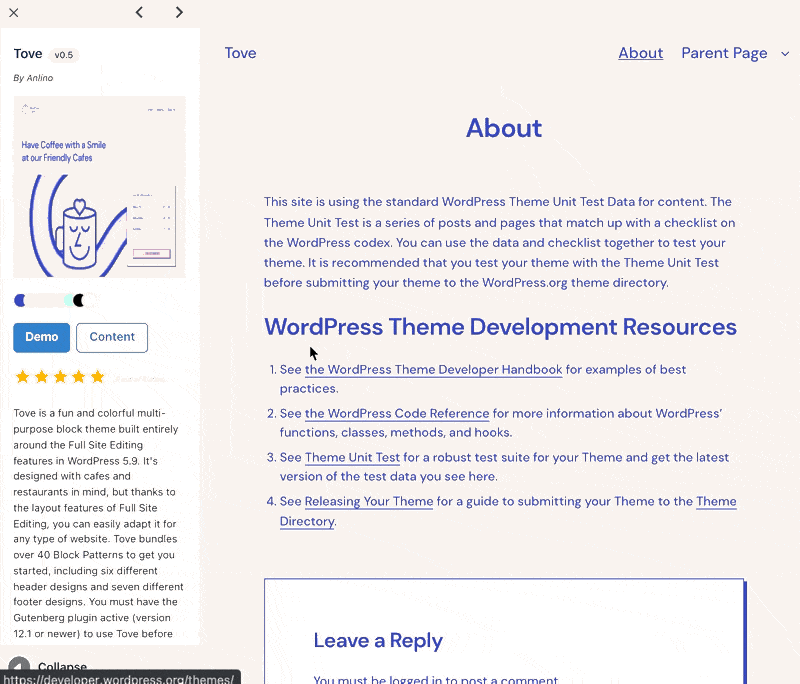 Be part of this. Improve it.
This is a proof of concept to show how I think the themes directory can be more helpful. I hope this spurs a discussion around the community about improving the official WordPress theme directory.
Regardless of my intention to kick off a discussion to improve the official WordPress theme directory, I want to improve this unofficial directory. I have some ideas, but I need your help. What additional theme details do you want to see while searching for a theme and choosing one? You can leave your suggestions in the comments.